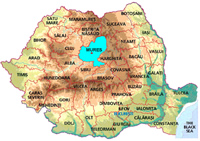 Relief: hills and plains occupies half of the total surface, the other half being occupied by the hills of Sub Charpatians and Gurghiu Mountains. The basin of Mures river - with its subsidiaries covers the total hydrographic network of the county.

Climate: long and cold winters, and hot summers

Natural reservations: Natural Park "Poiana Narciselor", Dendrological Park Gurghiu, Reservation of Peonies from Zau de Campie.

Natural resources: existence of salt, gas, rocks used in construction, forests used as raw materials, contribute to the growth of economic potential of the county.

Vegetation:
- mountain: pine, beech
- hills and plain: beech and others species
Fauna: brown bear, Charpatian stag, wild boor, rabbit, pheasan , fish, etc.
Surface: 6696 km2 out of which
- 409 000 ha agricultural field
- 219.000 ha arable
- 174 000 meadows
- 350.000 vineyards
- 6000 ha fruit farming
- 216.000 ha woods
Population: 550.000 inhabitants
50,2% living in urban and 49,8% in rural environment

4 municipalities: Târgu Mures, Sighisoara, Reghin, Târnaveni
7 cities: Ludus, Sovata, Iernut, Miercurea Nirajului, Sarmasu, Singeorgiu de Padure, Ungheni
91 communes